The Commoner who created an uncommon path of success, sacrifice and service
Born in 1946, in a large Harijan family in a remote hamlet, Qilashapur of Warangal district, Dr. Devaiah lived through a miserable life and experienced the bitterness of acute poverty. Being the youngest of the eleven children of Mr. Pagidipati Ratnam, Devaiah had the privilege of going to school, where he was never a truant. Right from the Nursery, he proved to his teachers that he had great future ahead. Dr. Devaiah honestly confesses that his Head Master was his role-model, and the H M observed something special in the lad. Comparing his life in the Social Welfare Hostel, he admits that the Government today has enormously increased the living standards of the poor students.
With sheer hard work and determination, Dr. Devaiah excelled in his school education and leaped into Osmania Medical College, Hyderabad in 1966-67. Recollecting those days of his scholarly life, he says that he had to borrow Rs.70 to pay his initial fees; study and sleep in a tiny room; and, commute on bare foot as he didn't have that 5 NP for fare. In the process he had to sacrifice several needs and desires. All this made him more mature, and paved way for a broader outlook in life. He rarely had a full sleep, contemplating over torments of not his life alone but his co-scholars too; and the racial discrimination. These circumstances made him dream big and study passionately.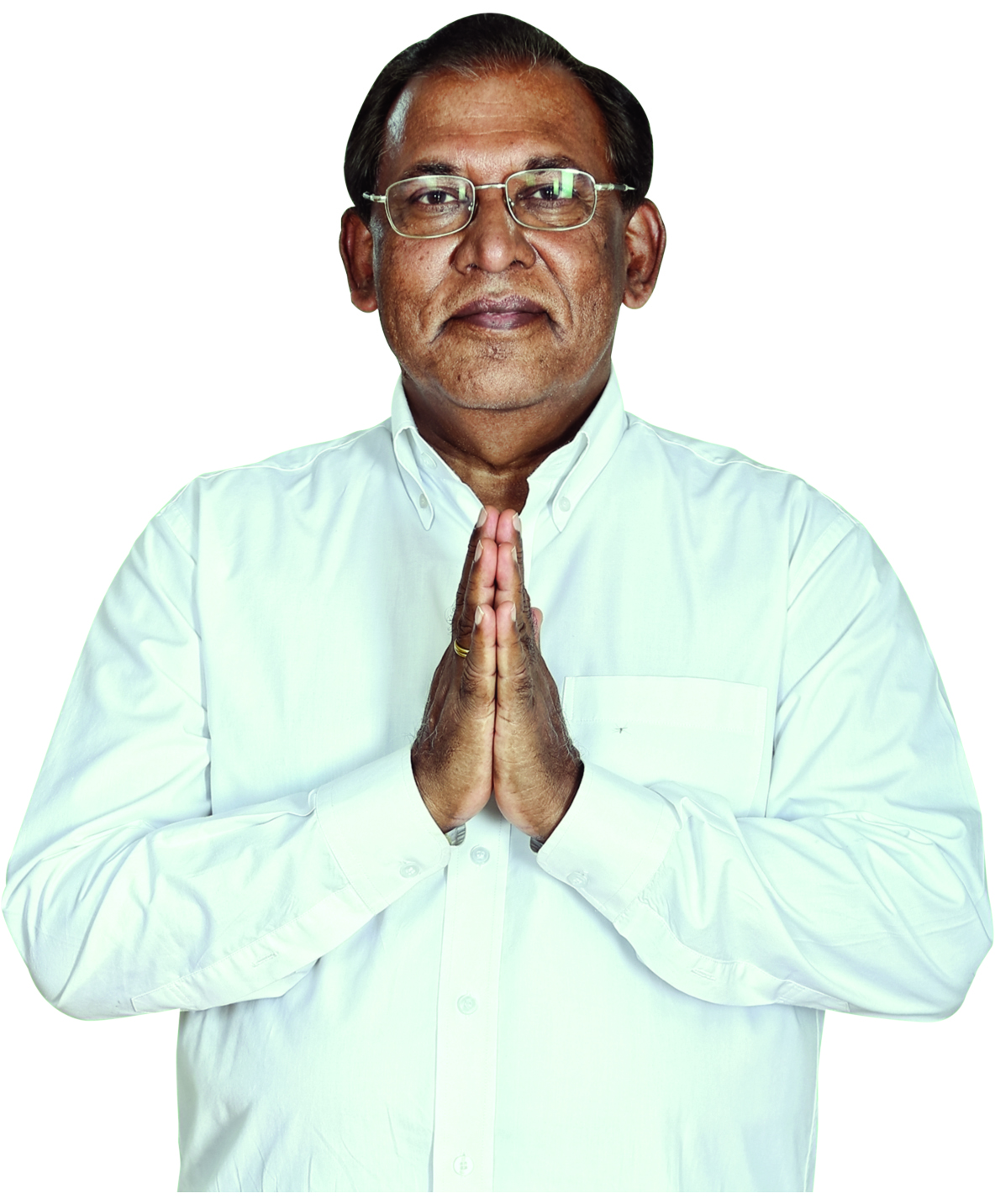 Succeeding in medicine, he was taken into the prestigious Kakatiya Medical College in 1971 as a professor. It was here that he encountered his present companion, Dr. Rudramadevi, a lady from a higher caste. Their union was a surprise and a shock to many then; but remains as an ideology to the present youth. With two sons and a daughter, the couple still stands united in spirit and strength.
The dramatic turn in his life came after he accomplished his Post Graduation in the USA; and, his training in anesthesiology in the most prominent Harvard University. While teaching at the University of Tennessee, he thought of establishing his own business in the States.
He then moved to Florida, where the couple established 'Sun Coast Laboratory' employing 100 people. Earning fame, he continued to expand his business in the States. Today he has to his credit seven lucrative companies in the United States of America which he is willing to devolve on his children and return to his native land in order to keep his promises.
Affluent in the USA, he mulls over entrepreneurship in his native land, where he could provide employment to the youth, connecting them to his companies in the USA. Thus he launched 'Anion Health Care' units in Hyderabad, engaging 200 employees.
Back to roots – to serve, to educate and to create social & financial equality
Dr. Devaiah has a unique way of looking at the future. He is judicious and prudent in planning, designing, and inspiring the youth in order to generate good leaders who in turn should redeem the lives of the poor.
Thus he concentrates on four major aims that will stand as guidelines.
Education
Employability
Equality
Empowerment
Dr. Devaiah envisages empowering the intellectual and the competent youth through education alone will eliminate the evils of the society and lead to progress. To cope with this vision, he has instituted NAADAM (National Association for Dalits, Adivasis, and Minorities) through which he provides funds to the disadvantaged scholars that study in the premier engineering and medical colleges across the nation.
Today NAADAM funds several engineering and medicine scholars; and prefers to mold them into genuine leaders like Dr. Ambedkar who are instilled in turn to raise the living standards of the indiscriminate and the marginalized.
By the people, Of the people and always For the people
After an earnest contemplation, Dr. Pagidipati Devaiah moved forward for an attempt into politics which will help him realize his heart's desire – 'in the service of the poor'.
"I know that working for people as a politician is a dynamic job. I wish to manifest the real service of a politician and how much good he can do for the people. My concern for the poor and the oppressed is deep. My major focus is to march forward to live with people, move with them, listen to them, communicate with them; tap and reap the rich schemes of the government; and see that they reach the deserved without any bias. This is the real reason why I wish to emerge into politics", conveys Dr. Devaiah to the people.
Name
Dr Pagidipati Devaiah, MBBS, MD
Father's Name
Pagidipati Ratnam
Mother's Name
Pagidipati Kotamma
Date of Birth
21/06/1944
Birth Place
Quilashapur, Warangal (Dt), Telangana
Maritial Status
Married
Spouse Name
Dr. Pagidipati Rudrama Devi, MBBS, MD
No. of Children
One Daughter & Two Sons
Permanent Address
Beta-409, Jayabheri Silicon County, Madhapur, Hitech City, Hyd, Telangana. Contact Number : +91 74 7979 2222
Email id
drpagidipati@gmail.com
Educational Qualifications

HSC from ZPH School, Jangaon stayed in Social Welfare Hostel
MBBS (Osmania Medical College, Hyderabad)
MD Anaesthesiology, Long Island Jewish Medical Center, New Hyde Park, NY, USA
Super Speciality: Paediatric Anaesthesia from Harvard University, Children Hospital, Boston, MA. USA

Career

Paediatric Anaesthesiologist (Retired)
Healthcare Entrepreneur
Philanthropist

Positions Held

Entrepreneur
Chairman, Freedom Health Inc. Florida, USA 2004 to 2008
Chairman, Physician Partners, LLC. Ocala, FL. USA, 2008 to date
Founder Chairman of MHC (Medical Health Centre) in Ocala, FL USA
Chairman, Suncoast Labs, Ocala, Florida USA, 1991 to 2008
Founder, Chairman of Inventcorp Technologies LTD, (IT company) in Hyderabad, INDIA 1999 to date
Founder, Chairman, Anion Healthcare Services (BPO Company) in Hyderabad, INDIA 2010 to date
Professional
Asst. Professor, University of Tennessee, USA
Chief and HOD, St. Jude Children's Hospital, Memphis, TN. USA
Member, High Power Committee – ESIC, India
Philanthropist
Founder, Chairman, NAADAM.org

Freedom Fighter Family Background

Father Ratnam Pagidipati was involved in the fighting with RAZAKARS and NIZAM government, in Telangana 1945 to 1949.
Even Father-in-law was freedom fighter who participated in QUIT INDIA movement and went to Jail in 1942. He is alive and receives Freedom Fighter benefits.

Social and Cultural Activities, Literary, Artistic and Scientific Accomplishments and other Special Interests

Went to USA in 1973, accomplished and founded several Businesses, including a very successful Health Insurance in USA. Even after about 45 years of living in US, kept Indian Citizenship. Now came back to India to serve nation and people in a broader capacity for the upliftment and welfare of underprivileged
Founded a Non-Profit society called NAADAM.org ( National Association for Advancement of Dalits, Adivasis, and Minorities) The vision of NAADAM is Education – Employment – Equality – Empowerment. NAADAM helps underprivileged students to study in top colleges like IITs, NITs, IIITs, NALSAR and Government Medical Colleges. Also focuses on health of rural and urban population in primary care space through free clinics, health camps. Women Empowerment programs and welfare schemes like skill training, toilet facilitation, placement empowerment are extensively implemented through NAADAM

Other Recognitions

Inc. 500 award for fastest growing companies of America, 2009
Life time achievement award TANA, USA
Entrepreneurship & philanthropy award, ATA, USA
Life Member, AAPI, USA
Life member, SWAEROES, INDIA
Dr.APJ Abdul Kalam Centre- Innovation in Governance award 2018 (KIGA 2018), India

Other Information

Dr.Devaiah has extensive experience in 360 degrees Healthcare Industry as provider and payer. He believes in the Healthcare as a fundamental right of the citizens. Welfare and progress of common man lies in: Health, Education, Employment, Entrepreneurship and social Empowerment. Dr.Devaiah is committed to get these privileges to the doorstep of common man and see a happy, healthy India. He has committed rest of his life for this cause and only this cause
To work towards his noble goals, he contested the by-election of Warangal in 2016 through BJP as an MP candidate